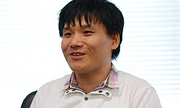 Kazutaka Otsuka is the chief planner at Team Ninja. He was the assistant director of Metroid: Other M. He chronicled his work on the game in an Iwata Asks interview.[1]
Prior to his work on Other M, Otsuka had assumed that Metroid was merely a shooting game. It was the first game Otsuka developed with a protagonist "who uses a beam projectile weapon", compared to Dead or Alive and Ninja Gaiden. He said that his responsibility on the project was to deliver an experience comparable to Super Metroid and Metroid: Zero Mission, with Yoshio Sakamoto's story. Otsuka felt that some of his exchanges with Sakamoto made a "deep" impression on him.
In the early stages of the game's development (circa 2008), Sakamoto suggested implementing SenseMove in Search View, the game's first-person mode. Team Ninja's attempts to implement this were unsuccessful until Sakamoto suggested that they use their own camera system, something they had used in past projects. This was done with success.
Otsuka found it a challenge to seamlessly blend Metroid gameplay with the game's cinematics. Some things had to be completely redone because they knew Sakamoto would not be satisfied. However, when they were connected, one of the staff members said it was disconcerting. Otsuka joked that he wanted to create a game that an "old man of fifty like Sakamoto-san can comfortably control". He also encouraged players to pursue 100% of items.