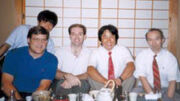 Kenji Miki was a longtime employee of Nintendo. During the NES era, Miki created games including Ice Climber, NES Open Tournament Golf, and Wario's Woods. Miki was a chief producer of the Nintendo Software Planning Division, created by Satoru Iwata to support games being developed overseas. He created and produced many Nintendo 64 and Nintendo GameCube games, including Metroid Prime and Metroid Prime 2: Echoes. Miki communicated with Retro Studios through emails, monthly phone conferences and personal gatherings to monitor their progress. Most recently, Miki was the president of Mario Club from 2005-2011. He retired soon after.
External links
Edit
Ad blocker interference detected!
Wikia is a free-to-use site that makes money from advertising. We have a modified experience for viewers using ad blockers

Wikia is not accessible if you've made further modifications. Remove the custom ad blocker rule(s) and the page will load as expected.