Kenji Yamamoto (山本 健誌 Yamamoto Kenji) is a Japanese video game musician working for Nintendo. He has composed the soundtrack for various games in the Metroid series as well as other games. He also voiced the Spore Spawn in Super Metroid.[1]
He did not compose music for Metroid: Other M, as he was working on Donkey Kong Country Returns. He was replaced by Ninja Gaiden composer Kuniaki Haishima. While it was reported that Yamamoto was composing the music for Metroid Prime: Federation Force alongside Next Level Games' internal music team, he is not credited in the final game.[1] He did return as the music director of the newest Metroid title, Metroid: Samus Returns, with the new composer Daisuke Matsuoka re-arranging some of Yamamoto's classic Metroid tracks.
He is not to be confused with the Kenji Yamamoto who composed music for Dragon Ball Z and some of its related media.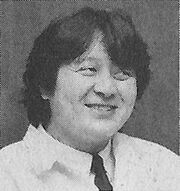 Listed below are soundtracks he has created for various games:
Other games
Edit
Advance Wars: Dual Strike (with Yoshito Hirano)
Famicom Tantei Club
Famicom Tantei Club II
Galactic Pinball
Hajimari no Mori
Mario Kart Advance (sound support)
Mike Tyson's Punch-Out!!
Sakuchi Momoko no Ukiuki Cannibal (sound support)
Excite Truck (with Masaru Tajima)
Donkey Kong Country Returns (with Minako Hamano, Masaru Tajima, Shinji Ushiroda and Daisuke Matsuoka)
Super Smash Bros. BrawlEdit
Kenji Yamamoto was one of the various composers contributing to Super Smash Bros. Brawl's soundtrack.[2]
References
Edit