"
Innovative pinball, based on Metroid Prime where Samus is the ball! Not only can you use the flippers to guide Samus into targets, and lay mines, but also unfurl from ball form and shoot wave after wave of enemies. The gameplay takes place over both screens, with the touch screen being used to nudge the ball. There was even a multiplayer link-up mode from a single cartridge which is great fun.
Almost universally panned by Metroid fans on forums long before they saw the game, mainly by people who assume pinball games are for kids. It did get some very nice reviews when released, and even Nintendo said that it turned out better than they had expected.
"

—Kevin Ayre on Metroid Prime Pinball[1]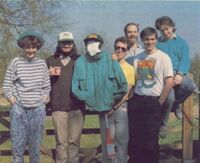 Kevin Ayre is a British video game designer, programmer and artist. He is credited under Fuse thanks in Metroid Prime Pinball. Other games Ayre has worked on includes fellow Fuse project Mario Pinball Land and Conflict: Desert Storm. Ayre is the co-founder of Purple Wax Games, an independent mobile developer that he created along with his wife Jenny.
External links
Edit