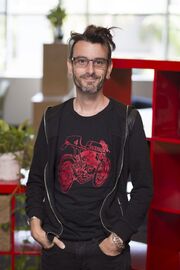 Kristoffer Larson is a sound designer. Larson owns and operates an audio facility, Tension Studios, and is also the senior sound supervisor at Formosa Group. In 2002, Larson was a contract sound designer for Metroid Prime. On his personal website Larson features an audio scenario that runs for 2:07, strung together from sounds he created for Prime. According to Larson, "The majority of the animal sounds are either modified library sounds or manipulated human vocalizations. The drones are mostly processed field recordings and the mechanicals are edited and processed library sources." In the past, Larson has worked for Konami, Dolby Laboratories, Cranky Pants Games, Surreal Software and Microsoft. Games he has designed sound for include Legacy of Kain: Defiance, Halo 4, Fable: The Journey, Project Spark and Quantum Break, among others.
External links
Edit
Ad blocker interference detected!
Wikia is a free-to-use site that makes money from advertising. We have a modified experience for viewers using ad blockers

Wikia is not accessible if you've made further modifications. Remove the custom ad blocker rule(s) and the page will load as expected.