Ad blocker interference detected!
Wikia is a free-to-use site that makes money from advertising. We have a modified experience for viewers using ad blockers

Wikia is not accessible if you've made further modifications. Remove the custom ad blocker rule(s) and the page will load as expected.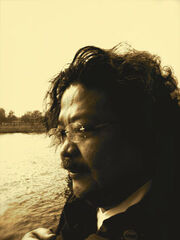 Kuniaki Haishima is a composer and musician native of Japan. He is best known for his work on many anime shows.
He composed for Metroid: Other M, replacing traditional series composer Kenji Yamamoto. [1] He went for an orchestral musical feel instead of the traditional futuristic feel that Yamamoto brought onto the Metroid series.
Adventures of Kotetsu
Alien Nine
Blue Gender
Blue Gender: The Warrior
Dokkoida?!
Gasaraki
Gundam: Mission To The Rise
Legend of Himiko
Legendary Gambler Tetsuya
Macross Zero
Master Keaton
Monster
Neo Ranga
Requiem from the Darkness
Run=Dim
Spriggan
Television
Edit
Sh15uya
Kamen Rider Kabuto
Kagen no Tsuki - Last Quarter
Tokyo Babylon 1999
Mushishi - Bugmaster