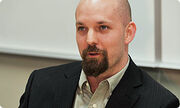 Kynan Pearson is a video game designer formerly of Retro Studios. Pearson was a level designer for Metroid Prime 2: Echoes and Metroid Prime 3: Corruption. He was also involved in event planning for the latter and is credited under additional thanks. He was also the lead designer for Donkey Kong Country Returns and an unknown, unannounced project. Pearson left Retro in December 2010 and joined 343 Industries the next month, becoming the lead multiplayer level designer for Halo 4 and 5: Guardians, before working at Bluepoint Games (founded by former Retro Studios employees) for a few years. He is currently a creative consultant and the creative director at Playful Corp.
Interviewed by Switch Player in 2017, Pearson revealed what he wanted to see from Metroid Prime 4, which was announced during Nintendo's Spotlight conference in June. He wanted Metroid to be reimagined similarly to The Legend of Zelda: Breath of the Wild, with a "fully realised planet featuring a vast surface and a deep subterranean world to explore".[1]
External links
Edit
References
Edit
Ad blocker interference detected!
Wikia is a free-to-use site that makes money from advertising. We have a modified experience for viewers using ad blockers

Wikia is not accessible if you've made further modifications. Remove the custom ad blocker rule(s) and the page will load as expected.