The following is a list of moves used by Samus and Zero Suit Samus in the Super Smash Bros. series.
Special Moves
Edit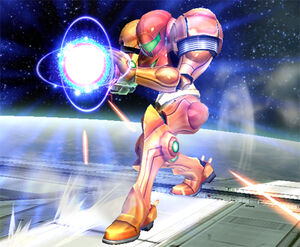 Smash Moves
Edit
Up Tilt + A - Downward Heel Kick (Samus smashes her heel into the ground. Original game, deals 3-8% damage upwards and 5-13% on ground collision, in Melee 13%.)
Forward Tilt + A - Middle Kick (Samus kicks forward very fast. 9-12% damage in the original, 10% in Melee.)
A - Light Middle Punch (Samus jabs. 2% damage)
Down Tilt + A - Ground Shot (Samus blasts into the ground causing a small explosion that send enemies upward)
A, A - Punch-Chop Combo (Samus jabs and then follows up with a vertical Arm Cannon swipe. 7% damage)
Up Smash + A - Cover Fire (Samus aims her Arm Cannon straight up and shoots four flames in an arch. It deals 10% each hit and is best used on characters about to fall on Samus; if all hits connect it deals 50% damage)
Side Smash + A - Super Jab (Samus thrusts her Arm Cannon forward, dealing quick knockback and 18% damage.)
Down Smash Attack + A - Super Low Sweep (Samus does a round kick of 16% damage.)
In her original and Melee Taunts, Samus poses with her left hand on her hip and raises her Arm Cannon, shaking it like a fist. In Brawl she has three taunts: slashing her left fist in the air, aiming behind and in front of her, and calibrating the Zero Laser.
She fires the Grapple Beam (as it appears in Super Metroid) as her grab. Non-PAL versions of Melee feature a gimmick where Samus can fire an extended Grapple using a quick mashup of buttons.
Grab + Forward - Forward Throw (Samus grapples her opponent and then smashes them onto the ground in front of her, 12-16% damage.)
Grab + Backward - Back Throw (Similar to the forward throw, but throwing the opponent backward, of course. This move is slightly stronger, dealing 14-18% damage.)
Up + A - Upward Drill Kick (In midair Samus' legs stick up and she drill kicks. She kicks five times, dealing 2% damage per kick, total 10%.)
Forward Air Attack + A - Flame Thrower (Samus sticks her Arm Cannon downward and a series of four explosions ensues dealing 2-20% damage. This was also the name of the Plasma Beam's Charge Combo in Metroid Prime, Flamethrower.)
Backward + A - Reverse Roundhouse Kick (Samus kicks backward quickly, dealing 14% damage.)
A - Chozo Kick (Samus kicks forward.)
Down + A - Low Shove (Samus thrusts her Arm Cannon downward. This is a very effective "meteor smash" attack. 14%)
While Running
Edit
A - Shoulder Charge (Samus rushes forward and rams her opponent. 12%. The motion of this rather resembles the Shinespark.)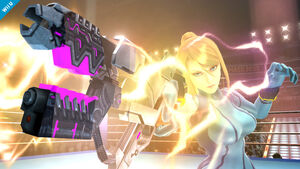 Special Moves
Edit
Standard B: Paralyzer (Samus fires a briefly charged or uncharged shot of her Paralyzer, as a stun move. 4-5% damage when uncharged, 6% when charged.)
Up B: Plasma Wire (Samus fires her Plasma Whip into the air, as a tether recovery. Anyone who is above her that gets caught is pulled downward. Anyone caught on the ground is trapped in the whip for it as it electrocutes them. It is effective as it can be used again and does not put Samus into helpless mode. If in midair off a ledge, Samus jumps a bit.)
Side B: Plasma Whip (Samus lashes the whip out to her side, this is also usable as a tether recovery. 19% damage, only 16% if the tip hits an opponent)
Down B: Flip Jump (Samus bounces off the floor or in midair; this is also an effective recovery move. It does not put her into helpless, but she cannot use it again. The B button can be pressed again to cause her to kick downward, dealing respectable damage; this attack is a "meteor smash".)
Final Smash: Power Suit Samus (Appears in Super Smash Bros. Brawl. When Zero Suit Samus acquires a Smash Ball, she envelops into a ball of energy resembling the Crystal Flash, which vacuums and damages anyone caught in the crossfire (25-26%). After a few seconds, the Power Suit is restored. 10% damage is dealt to anyone caught just as Samus transforms. In the fourth games, the transformation no longer occurs as Samus and Zero Suit Samus are now separate characters.) In Super Smash Bros. 3DS and Wii U, Samus calls in her gunship, leaps in, and is allowed a short period of time or shots to blast enemies with her gunship lasers. This final smash is similar to Snake in Super Smash Bros. Brawl, but uses no bullet drop, or arc, and fires in bursts instead of single shots. It also does not require a reload time.
Smash Moves
Edit
Neutral attack - Samus strikes with her hand, then whips her Paralyzer, and finally thrusts her hip. The hits are 2%, 2% and 3%, respectively, with a total of 7% damage.
Dash attack - Samus slides and kicks forward with her leg extended, doing 7%. In Other M, Samus slides under shutters and obstructions during the final Countdown sequence similar to this.
Forward tilt - Samus performs an around-the-body kick 45 degrees from horizontal, when tilted upward. Does 6% damage.
Down tilt - Samus does a prone leg-sweep, knocking upwards from afar and diagonally at close range, doing 6% damage.
Up tilt - Samus does a handstand split while she spins on the spot, with her legs kicking up. The attack performs two hits for 5% then 6% damage, total 11%.
Up smash attack - Samus uses her whip in the air.
Side smash attack - Samus slashes with her whip in front of her.
Down Smash Attack - Samus fires the Paralyzer downwards.
Smash Tips: "This attack fires Zero Suit Samus's Paralyzer diagonally down. Its victim will be stunned for a moment, leaving them open to another attack!"
Zero Suit Samus speaks in her taunts, the first time Samus has ever spoken in a game (Metroid: Other M would be the first canon game where Samus spoke). In her first taunt, she tosses the Paralyzer in the air and asks "Is that all?". In the second, she curls her whip in front of her and says "Try me." In her final, she spins on her heel with the Plasma Whip twirling around her and whispers "You're mine."
Zero Suit Samus uses the Plasma Whip again for her grab, but this cannot be used as a tether since her up and side special moves are tethers.
Pummel - Samus quickly knees her opponent, 2% each hit.
Forward throw - Samus hits her opponent forward with the Paralyzer, 2-7% damage, total 9%.
Back throw - Samus kicks her opponent, 2-4% damage, total 6%.
Down throw - Samus slams her opponent on the ground and kicks them in an axe fashion, 2-5%, total 7%.
Up throw - Samus flips and kicks her opponent, 2-8% damage, total 10%. This is her most powerful throw.
A - Samus spins the Plasma Whip around herself, always dealing 10% damage.
Forward Air Attack - Samus kicks forward twice, the second kick being stronger. 6-11% damage, total 17%.
Back A - Samus kicks backward like in her forward A attack, but this is faster. 13%.
Up A - Samus flip kicks both legs above her head. This can KO light characters at 90% if they are near the upper limit. 7-10%.
Down A - Samus' leg shoots down diagonally in what is called a "sex kick". There is a brief pause before she descends. This is a capable but risky meteor smash. 4% damage on contact, 5% upon landing, total 9%.
Smash Tips: "This move sends Zero Suit Samus diagonally downward while attacking. When she lands, the impact damages enemies around her."
While Running
Edit
Samus kicks forward in the air.