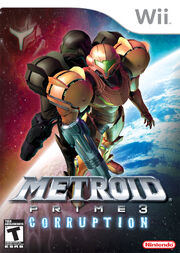 MP3 Title Music is the theme that plays on the title and menu screen of Metroid Prime 3: Corruption as well as the credits.
MP3 Title Music is a somber song consisting nearly entirely of a choir, highlighting the dramatic weight of the trilogy's finale. The theme is significantly extended in the credits, now opening with a dramatic version of the main theme, containing a narration discussing the victory against Phaaze, and then seguing a lighter, more celebratory piece of music.
On September 23, 2010, WDR Radio Orchestra performed the Symphonic Legends concert in Cologne Philharmonic Hall in Germany. As an encore, they performed a medley of Nintendo ending themes, including MP3 Title Music. This arrangement was based upon the extended credits version and was sung by the State Choir of Latvia. For a unique twist on the theme, it was combined with a flute and violin performance of the credits theme from The Legend of Zelda: The Wind Waker.
MP3 Title Music is included as a track on the Samus Archives Sound Selection CD included with the Special and Legacy Editions of Metroid: Samus Returns, titled Metroid Prime 3: Corruption. This CD includes the extended intro of the credits version, but does not include the lengthy celebratory section.
The title/menu version can be heard here: [1] The extended credits version can be heard here: [2] The Symphonic Legends version can be heard here: [3]
Corruption is the only game in the original trilogy where the menu/credits theme is the same as the title theme.
The credits version of MP3 Title Music has never been released without narration, although a fan-made edit attempts to remove it.