Main Ventilation Shaft Section A is part of a network of ventilation shafts in the Frigate Orpheon in Metroid Prime that Samus travels through after the Parasite Queen battle in order to escape the frigate. This section contains a swarm of Parasites that are most easily avoided using Morph Ball.
After the frigate crashed into the Tallon Overworld, a large portion of the room was flooded. In the unflooded portion, there is a swarm of Tallon Crabs. The flooded portion contains some Fish and a door leading to the Reactor Core.
Connecting rooms
Edit
Inhabitants
Edit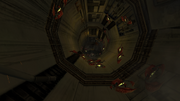 First visit
After crashing
Post-crash
Edit
Ad blocker interference detected!
Wikia is a free-to-use site that makes money from advertising. We have a modified experience for viewers using ad blockers

Wikia is not accessible if you've made further modifications. Remove the custom ad blocker rule(s) and the page will load as expected.