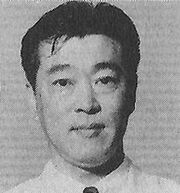 Makoto Kanō (also spelled as Makoto Kanoh) is a Japanese video game designer working for Nintendo. He is the creator of Samus Aran, the main character in the Metroid series.[1]
Kanō designed the first Metroid on the Nintendo Entertainment System, under the direction of Satoru Okada and Gunpei Yokoi, specifically the game's characters and scenario. He later returned to Nintendo to work on Metroid II: Return of Samus, which was released in the United States in 1991. He next produced and directed Super Metroid on the Super Nintendo Entertainment System. He also worked on the original Game Boy device.
Having great respect for his work on the Metroid series, Kanō only works on new additions to the story when he believes that they help improve the series. Kanō subscribed to this notion when developing Super Metroid, leading it to be nearly flawless when completed.
Kanoh has worked on 17 other games, all published by Nintendo, including Kid Icarus, Famicom Wars and Super Smash Bros. Melee, which feature Metroid elements in some form.
Ad blocker interference detected!
Wikia is a free-to-use site that makes money from advertising. We have a modified experience for viewers using ad blockers

Wikia is not accessible if you've made further modifications. Remove the custom ad blocker rule(s) and the page will load as expected.