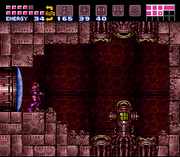 Map Stations provide Samus with a map of the nearby area that excludes any secret passages, though the existence of some of these can be inferred quite easily. Some Chozo Statues exhibit this ability as well, mainly in Metroid: Zero Mission. Map Stations are present in Super Metroid, Metroid: Zero Mission, and the Prime series. In Metroid Fusion, the Navigation Room doubles as a map station. In Metroid: Other M, Navigation Booths act as Map Stations at certain points.
Official data
Edit
Logbook entry
Edit
| | |
| --- | --- |
| ! | This is a rare creature/object. It may only be scanned in one or few encounters. |
Map Station
Temporary scan
Map Station
Logbook entry
Walk into Map Station holograms to download a map of the area you're in.
"Map Station. Step into hologram to update map data."
"Map Station. Enter the hologram to download the map data for this area."
The only Map Station that requires extra work to use is the one on the Wrecked Ship in Super Metroid. Once Samus defeats Phantoon, who is sucking all of the ship's power, the Map Station is restored along with all of the functions of the ship.
The Zero Suit is also capable of storing map data, as seen in both games where it is playable. How the map is accessible in the Zero Suit is unknown, but it may be that the Paralyzer downloads the data components and then stores them somewhere within the Zero Suit; possibly on the emblem on the back of Samus' hand, as there is a lack of any other detail that could serve this purpose.
In Metroid Prime, if the map acquisition cutscene is interrupted before it ends, the map device will repeat the animation it performs during the cutscene, but now in real time.
The Map Stations in Metroid Prime intentionally do not provide full map data for their respective regions to encourage players to keep exploring them using Samus' abilities. For instance, the Chozo Ruins' map station does not tell Samus about the Hall of the Elders or the Reflecting Pool; only by using the Spider Ball to explore the rest of the Furnace and exiting it will she discover these two rooms.
The Map Station's hologram in Metroid Prime is based on the Frigate Orpheon's map layout, this hologram is used for all the stations of Tallon IV and Aether in Metroid Prime 2: Echoes. In Metroid Prime 3: Corruption, the Map Station' holograms on Norion and the Pirate Homeworld do resemble their corresponding area layouts.
Ad blocker interference detected!
Wikia is a free-to-use site that makes money from advertising. We have a modified experience for viewers using ad blockers

Wikia is not accessible if you've made further modifications. Remove the custom ad blocker rule(s) and the page will load as expected.