"
When they had been working on Metroid: Prime Pinball for a while they contacted me again to ask if I would be willing to beta-test the game; something I was happy to do. Metroid: Prime Pinball was a very different style of game to any Pro Pinball title, and the split screen on the DS made it especially challenging to play. Being a physical pinball player it took a while to get into it, but once I had got my mind around the concept and the story line I again fed-back my thoughts about how the game could be improved as well as any ball hang-ups or bugs I encountered during the many, MANY hours of play testing.
"

—Martin Ayub in 2017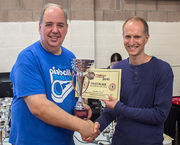 Martin Ayub is a British professional pinball player and the editor of Pinball News. The 50th ranked player in the world, he is credited under special thanks in Metroid Prime Pinball. A longtime friend of Adrian Barritt and Richard Horrocks, the founders of Fuse Games (now Silverball Studios), he was approached by them to beta test Pinball and accepted the offer. Ayub found the Nintendo DS controls to be a challenge as he was used to physical pinball machines. He was also credited under quality assurance in Pro Pinball: The Web, which was developed by Empire Interactive, the predecessor of Fuse Games.
External links
Edit