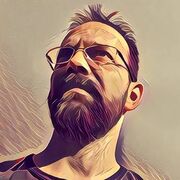 Matthew Nightingale is a British video game artist. He was the lead artist of Fuse Games/Silverball Studios from 2004-2013, and worked on Metroid Prime Pinball. Nightingale has also been an artist for Ford Racing 3, Ghost Master, Pipe Dreams 3D and Secret Weapons Over Normandy.
Nightingale is a graduate of Bournemouth University, with a Master's degree in computer animation. It is likely he is married or related to Hilary Nightingale, who is credited under Fuse thanks in Pinball. Prior to working at Fuse Games, Nightingale worked at Vivid Image, Empire Interactive and Razorworks. He is now the lead artist at Neon Play.
External links
Edit
Ad blocker interference detected!
Wikia is a free-to-use site that makes money from advertising. We have a modified experience for viewers using ad blockers

Wikia is not accessible if you've made further modifications. Remove the custom ad blocker rule(s) and the page will load as expected.