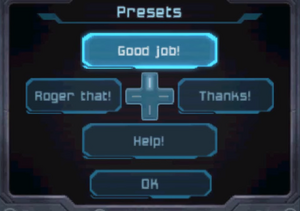 Messaging is a feature in Metroid Prime: Federation Force. By pressing the keys on the directional pad, Federation Force soldiers can send each other pre-recorded messages of encouragement, or pleas for help if in danger. Only four messages can be sent at a time; these are able to be changed through the Chat Button. The gender and pitch of the voice can be customized to preference, as well as the language spoken.
"The list of messages will be displayed here. Use messages set to [D-pad] by pressing [D-pad]."
Hello!
OK!
Ready to go!
Give it all you've got!
Be cautious!
I'm new to this.
Let's go!
Locked and loaded!
Good job!
Thank you!
Wait!
Waiting for more.
I'm dropping out.
Check your MODs.
Ready up!
Nice paint job!
Blast Ball messages
Edit
Hello.
Good game!
Go! Go! Go!
Defense!
Thanks!
Good job!
Sorry.
Nice shot!
Nice pass!
Nice defense!
Now's our chance!
We're in trouble!
I'll play offense.
I'll play defense.
So close!
GOAL!
Ad blocker interference detected!
Wikia is a free-to-use site that makes money from advertising. We have a modified experience for viewers using ad blockers

Wikia is not accessible if you've made further modifications. Remove the custom ad blocker rule(s) and the page will load as expected.