"
Metroid: Samus Returns is an action-packed, side-scrolling shooter which has been remade to include engaging and immersive 3D visuals and a rich, atmospheric color palette. Metroid: Samus Returns launches September 15, 2017. Rated Everyone 10+.
"

—Video description
Metroid: Samus Returns - Official Game Trailer is the official reveal trailer for Metroid: Samus Returns. Revealed on June 13, 2017, it was the second trailer for a new Metroid game to be revealed on that day, an hour after it was disclosed that Metroid Prime 4 was in development for Nintendo Switch. The trailer is 1 minute and 39 seconds long.
The trailer begins with a green armored figure breathing as the Nintendo 3DS logo (which can also be seen in the background of the 3DS showing the gameplay), with the figure presumably being the Queen Metroid. It then cuts to showing a Hornoad being devoured by a Larva Metroid. Samus Aran lands on SR388 and begins to explore, coming across a Chozo Statue, the Scan Pulse and a molted Alpha Metroid skin. She is then ambushed by a Gamma Metroid as the music changes to the Diggernaut battle theme. The trailer displays several more abilities of Samus's, including the Melee Counter, Grapple Beam, Beam Burst, Free Aim and Bomb Jump. She is also shown battling the Arachnus, as well as an Alpha, Gamma and Zeta Metroid. The trailer blacks out as Samus begins to wrestle with the Zeta Metroid. The logo flashes on-screen, along with the game's release date, September 15, 2017, with a remix of Title (Metroid) playing during this time.
As of August 9, 2017, the trailer has a higher view and like count than Metroid Prime 4 - First Look, the Metroid Prime 4 announcement trailer.
The Chozo Laboratory theme is heard during the first portion of the trailer, which changes to the Diggernaut chase and battle theme for the action portion. This is the first time these themes were publicly revealed. At the end of the trailer, a remix of the series' classic Title theme is heard.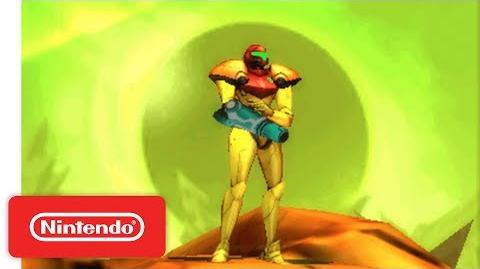 Ad blocker interference detected!
Wikia is a free-to-use site that makes money from advertising. We have a modified experience for viewers using ad blockers

Wikia is not accessible if you've made further modifications. Remove the custom ad blocker rule(s) and the page will load as expected.