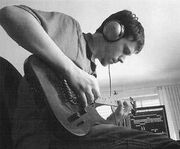 Metroid Metal is a fan site created by Grant "Stemage" Henry and devoted to the music of the Metroid series. He has taken some of the most well-known pieces of music from the series and kicked them up a notch by turning them into instrumental hard rock and metal renditions.
The majority of the tracks are performed entirely by Henry and his drum machine, he often collaborates with Dan Taylor (Chunkstyle) playing bass guitar, and he has collaborated once with GOAT on The Tunnel from Metroid II, and with Daniel Brown (Kareshi) in the Downed Frigate from Metroid Prime. Henry's brother Adam also provided drum parts for the Super Metroid ending.
The logo features Samus Aran's sprite from Metroid, holding a guitar. This may be a reference to the special unlockable ending in Tetris where she is seen playing a bass along with other Nintendo characters.
Song List
Edit

Live Appearances
Edit
Stemage, Chunkstyle, and musicians from other video game music bands recently collaborated to perform live at MagFest VIII. They also performed live at the 2009 Penny Arcade Expo (PAX), and released a new studio album to supplement the performance, titled "Varia Suite" (in the Luminoth language).
Grant Henry (Stemage) - Guitar
Dan Behrens (Danimal) - Guitar
Micheal Molnar (Kirby Pufocia) - Guitar
Dan Taylor (Chunkstyle) - Bass
Kevin Lawrence (Cheddar) - Drums
External links
Edit