Metroid Prime & Fusion Original Soundtracks
Talk

14
Share
Ad blocker interference detected!
Wikia is a free-to-use site that makes money from advertising. We have a modified experience for viewers using ad blockers

Wikia is not accessible if you've made further modifications. Remove the custom ad blocker rule(s) and the page will load as expected.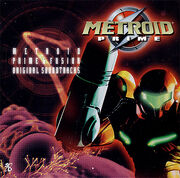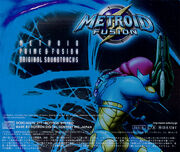 Metroid Prime & Fusion Original Soundtracks is a two-CD set, each disc containing the soundtrack of one of the games (Metroid Prime and Metroid Fusion) released only in Japan, on June 18, 2003. Metroid Prime music was composed by Kenji Yamamoto and Kouichi Kyuma, while Metroid Fusion music was composed by Minako Hamano and Akira Fujiwara.
Tracklisting
Edit
Prologue
Frigate Orpheon
Frigate Orpheon Escape
Ancient Chozo Ruins
VS Hive Totem
VS Giant Beetle
Energy Core
Lava Caves (Burning Trail)
Ice Chapel
Space Pirates (Laboratory Gate)
VS Thardus
Tallon Overworld
Chozo Chapel of the Elders
VS Chozo Ghost
Artifact Shrine (Release of the Chozo Ruins Seal)
Impact Crater
Shrine Collapsing~Epilogue
End Jingle
Get Artifact Jingle
Title
Environment Sound (Silence 1)
Environment Sound (Tension)
Environment Sound (Shock)
Facing a Huge Reaction
Tension Before a Confrontation
Navigation Room
VS Core-X, Fake Chozo Statue Second Form
Environmental Sound (Disquieting)
VS Zazabi, Barrier Core-X
Environmental Sound (Silence 2)
VS Ishtar, Gedo
VS BOX
SA-X Appears
Sector 3 Emergency Situation
Sector 3 Restore the Cooling Installation Timer Mission
Environmental Sound (Intrigue)
VS Fake Statue First Form
VS Nightmare
Sector 4 (AQA) Underwater Area
Last Instructions
VS SA-X
Station Escape Timer Mission
Epilogue
Ending
Appearance Jingle