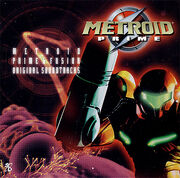 The Metroid Prime Credits not only plays during the staff credits in Metroid Prime, but looped differently in the menu as well. This also plays during the game credits. A slight remix of it is also featured under the title Opening/Menu (Metroid Prime) in Super Smash Bros. Brawl. On the Metroid Prime & Fusion Original Soundtracks, the menu theme is titled Menu Select, and the credits theme is titled Ending Staff Roll.
The credit theme, titled Metroid Prime - End Credits, appears as the penultimate track in GameSoundTracks: Original Videogames Music Tracks #1, a 2003 soundtrack offered by German gaming magazine Man!ac.[1] Metroid Prime Credits is also included as a track on the Samus Archives Sound Selection CD that is bundled with the Special and Legacy Editions of Metroid: Samus Returns.
The theme that can be heard in the menu is here: [1]. The theme that can be heard in the credits is here: [2]
References
Edit
Ad blocker interference detected!
Wikia is a free-to-use site that makes money from advertising. We have a modified experience for viewers using ad blockers

Wikia is not accessible if you've made further modifications. Remove the custom ad blocker rule(s) and the page will load as expected.