Metroid Prime Hunters Official Nintendo Player's Guide
Talk

1
3,564pages on
this wiki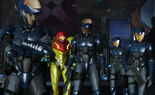 "Clearly, this facility is in complete disorder."
---
This article or section requires a cleanup to meet
Wikitroid's quality standards.
You can discuss this issue on the talk page or edit this page to improve it.
The Metroid Prime Hunters Official Nintendo Player's Guide is the official strategy guide to Metroid Prime Hunters.
Notably, there is an error in Sylux's description which says that he turns invisible when equipped with the Imperialist. This is a mistake, as this only happens to Trace.