Welcome to Wikitroid!
We are creating the ultimate Metroid reference, and you can help!
Wikitroid
Wikitroid is a community that aims to create the best resource for Metroid, a series of video games produced by Nintendo.
We are currently editing 4,469 articles and growing.
While we have grown bigger and better over the past few years, we are still in need of help! See below for suggestions on what you can do to help us grow bigger.
All pages can be edited and you are welcome to join us and contribute to this wiki. Everyone is free to create a new page or edit an existing one.
Warning: This wiki contains spoilers. Read at your own risk.
Metroid IRC Community
Want to chat with Metroid fans just like you? Please consider joining the "Official Unofficial" Metroid chat channel created under the collaborative effort of Metroid fansites like Shinesparkers, Metroid Database, Metroid HQ, and Wikitroid! All you have to do is click here!
Did You Know...
To commemorate the series's 30th anniversary, we're featuring 10 did you know facts about the original Metroid!
...that the original game had five endings, the best of which featured Samus in a bikini?
...that Metroid was originally titled Space Hunter?
...that the manual referred to Samus using male and gender-neutral pronouns, concealing the fact that she was a woman?
...that the Famicom version of the game had the ability to save progress, but did not include armorless Samus?
...that the Famicom version also had higher quality sound and music and less lag?
...that the original Metroid has been ported at least 7 times to newer consoles?
...that while the boxart claims it is a "two player alternating game", Metroid has no form of multiplayer?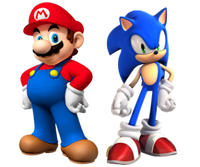 Platformer Games
Go to these sites for info or for help with your own wiki!
Azure Striker Gunvolt • Banjo-Kazooie • Broforce • Cave Story • Code: Hardcore • Conker • Crash Bandicoot • Donkey Kong • Drawn to Life • Epic Mickey • Freedom Planet • Geometry Dash • Jak and Daxter • Kirby • LittleBigPlanet • Mario • Mega Man • Metal Slug • Metroid • Mighty No. 9 • Oddworld • Ratchet & Clank • Rayman • Shantae (and WayForward games) • Shovel Knight • Sly Cooper • Sonic • Spyro the Dragon • Tearaway • Yooka-Laylee
Want your community included? See how!

Ad blocker interference detected!
Wikia is a free-to-use site that makes money from advertising. We have a modified experience for viewers using ad blockers

Wikia is not accessible if you've made further modifications. Remove the custom ad blocker rule(s) and the page will load as expected.