Welcome to Wikitroid!
We are creating the ultimate Metroid reference, and you can help!
Wikitroid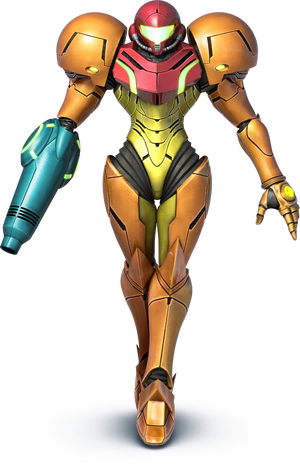 Wikitroid is a community that aims to create the best resource for Metroid, a series of video games produced by Nintendo.
We are currently editing 3,683 articles and growing.
While we have grown bigger and better over the past few years, we are still in need of help! See below for suggestions on what you can do to help us grow bigger.
All pages can be edited and you are welcome to join us and contribute to this wiki. Everyone is free to create a new page or edit an existing one.
Warning: This wiki contains spoilers. Read at your own risk.
Metroid IRC Community
Want to chat with Metroid fans just like you? Please consider joining the "Official Unofficial" Metroid chat channel created under the collaborative effort of Metroid fansites like Shinesparkers, Metroid Database, Metroid HQ, and Wikitroid! All you have to do is click here!
Recent news
June 16, 2015: Metroid Prime: Federation Force is announced at E3,
to be released in 2016 for Nintendo 3DS.
October 19, 2014: N1ghtrav3n is promoted to administrator.
August 20, 2014: AmorphousBlob is promoted to administrator.
July 29, 2013: Sylux X is promoted to patroller.
November 17, 2012: Metroid Prime and Metroid Fusion turn 10.
September 7, 2012: N1ghtrav3n is promoted to patroller.
April 20, 2012: Bob is now the Wikitroid mascot!
April 10, 2012: AdmiralSakai is promoted to administrator.
April 4, 2012: The Exterminator is promoted to bureaucrat.
August 6, 2011: The Metroid Series turns 25 years old!
---
Featured article
Metroid EX is a sequel series to Samus and Joey. It ran for 12 issues from May 2004 - April 2005. Metroid EX was never made available in volumes like Samus and Joey, and it only exists in the original Comic Bom Bom magazines, making it a much more rare print. The Metroid Database first released their unofficial scan and translation project on April 25th, 2015. The manga centers around Samus Aran, who lost her Power Suit upgrades to Greed, a creature of the same species as her nemesis Ridley, in the final chapter of the previous manga. EX follows her efforts to recover them in perilous adventures across the Extreme Galaxy, with the help of Joey Apronika and Diesel.
---