Home
Talk

501
3,590pages on
this wiki
Welcome to Wikitroid!
We are creating the ultimate Metroid reference, and you can help!
Wikitroid

Wikitroid is a community that aims to create the best resource for Metroid, a series of video games produced by Nintendo.
We are currently editing 3,590 articles and growing.
While we have grown bigger and better over the past few years, we are still in need of help! See below for suggestions on what you can do to help us grow bigger.
All pages can be edited and you are welcome to join us and contribute to this wiki. Everyone is free to create a new page or edit an existing one.
Warning: This wiki contains spoilers. Read at your own risk.
Recent news
October 19, 2014: N1ghtrav3n is promoted to administrator.
August 20, 2014: AmorphousBlob is promoted to administrator.
July 29, 2013: Sylux X is promoted to patroller.
November 17, 2012: Metroid Prime and Metroid Fusion turn 10.
September 7, 2012: N1ghtrav3n is promoted to patroller.
April 20, 2012: Bob is now the Wikitroid mascot!
April 10, 2012: AdmiralSakai is promoted to administrator.
April 4, 2012: The Exterminator is promoted to bureaucrat.
August 6, 2011: The Metroid Series turns 25 years old!
---
Did You Know...
...that the SA-X's artificial intelligence coding in Metroid Fusion is easily manipulated, despite it being described as an "intelligent being"?
...that the RB176 Ferrocrusher resembles the loader from the film Aliens, which was a source of inspiration for the Metroid games?
...that Air Holes resemble Warp Pipes in Super Mario Bros.?
Featured article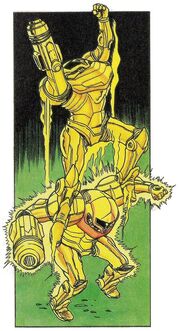 The Shinespark is a move Samus can execute after getting the Speed Booster ability and has appeared in every game with it. It was originally taught to her by the Dachora on Zebes. The Shinespark is performed by activating the Speed Booster, crouching, and then jumping. When jumping, Samus can choose to aim the Shinespark in one of five directions; these directions are left, diagonal up-left, up, diagonal up-right, and right. The process must not be interrupted if the Shinespark is to be performed successfully. Once she has stored a charge by crouching, Samus may stand up and move around as usual with the exception of jumping normally, which will activate the Shinespark. This may be avoided by performing a Spin Jump, which does not activate the technique. While Samus cannot fire any beams while doing a Shinespark, a charged beam can be maintained during a Shinespark in Metroid: Zero Mission.
---