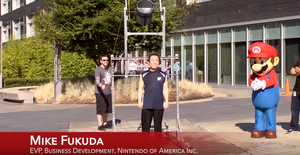 Mike Fukuda (born Manabu Fukuda) is the executive vice president at Nintendo, a position he took in 2007.[1] Prior to this, he was named senior vice president in 2002, and was a business developer for many of its games before that. His role gives him the responsibility of deciding which Nintendo games to release in North America, as well as how and when.[2] Fukuda is credited under special thanks in Metroid Fusion, Metroid Prime, Metroid: Zero Mission, Metroid Prime 2: Echoes, Metroid Prime Hunters and Metroid Prime 3: Corruption, all of which predate his ascension to executive VP.
External links
Edit
References
Edit
Ad blocker interference detected!
Wikia is a free-to-use site that makes money from advertising. We have a modified experience for viewers using ad blockers

Wikia is not accessible if you've made further modifications. Remove the custom ad blocker rule(s) and the page will load as expected.