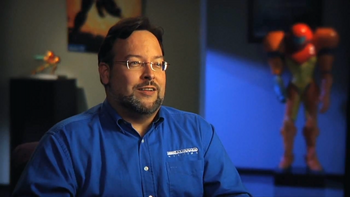 Mike Wikan was the Senior Game Designer at Retro Studios. Wikan appeared in the Developer's Voice feature promoting the Metroid Prime Trilogy. He is currently working for Booz Allen Hamilton and lives near Austin, Texas.
GSGT C. Benet's beta name in Metroid Prime 2: Echoes was M. Wikan.
Biography
Edit
Mike first entered into the world of video game development in 1993, when he began work as Concept Artist for n-Space, later moving into the role of Lead Game Designer. He worked there until 1997, when he left and joined Accolade, working as Lead Game Designer, and continued work there until 2000, when he left to join Retro Studios. In 2011, Mike left Retro Studios to id Games. He has since left and is working as Creative Director for Booz Allen Hamilton in San Antonio Texas. He regularly speaks at conferences dealing with innovative and experiential technologies, most recently at xTech in San Francisco, California.
Credited in
Edit
These are the games Mike Wikan has been credited in:
Tigershark (1997), GT Interactive Software Corp.
Duke Nukem Time To Kill (1999) GT Interactive Software Corp.
Slave Zero (2000), Infogrames Europe SA
Metroid Prime (2002), Nintendo of America Inc.
Metroid Prime 2: Echoes (2004), Nintendo of America Inc.
Metroid Prime 3: Corruption (2007), Nintendo of America Inc.
Metroid Prime Trilogy (2009), Nintendo of America Inc.
Donkey Kong Country Returns (2010), Nintendo of America, Inc.
Never Alone (2014), E-Line Media.
External links
Edit
Ad blocker interference detected!
Wikia is a free-to-use site that makes money from advertising. We have a modified experience for viewers using ad blockers

Wikia is not accessible if you've made further modifications. Remove the custom ad blocker rule(s) and the page will load as expected.