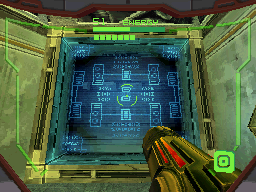 The Navigational Chart is an object in Metroid Prime Hunters, found in the Meditation Room on the Celestial Archives. It is a blue holographic chart displaying the Tetra Galaxy and bears resemblance to the Tetra Trade Map.
Logbook entry
Edit
Navigational Chart
Metroid Prime Hunters
Logbook entry
Holographic directory of the TETRA GALAXY.