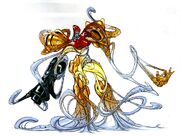 Nick Kondo is a concept artist and animator. He was employed as such during the development of Metroid Prime Hunters. His website features several concept artwork pieces, of a severely distorted Samus Aran with tentacles that may represent Phazon, and three depicting Space Pirates, one of which is based on its Metroid Prime appearance, and another that has a Metroid on its abdomen.
Also of note is that Kondo has worked on 1080 Avalanche, also by NST, which features a Metroid cameo.
External links
Edit
Ad blocker interference detected!
Wikia is a free-to-use site that makes money from advertising. We have a modified experience for viewers using ad blockers

Wikia is not accessible if you've made further modifications. Remove the custom ad blocker rule(s) and the page will load as expected.