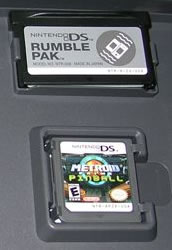 The Rumble Pak,[1] known as the DS Vibration Cartridge (DS振動カートリッジ, DS Shindō Kātorijji?) in Japan,[2] is a vibrating Game Boy Advance-slot (SLOT-2) attachment for the Nintendo DS. It was originally included with Metroid Prime Pinball,[3] and is now compatible with at least 55 different games, including Metroid Prime Hunters.[4] A Nintendo DS Lite version was also released by Nintendo in Japan, but the original version also functions with the console.[2]
Reception
Edit
The Nintendo DS Rumble Pak was initially met with harsh criticism, as CNET pointed out the limited number of games compatible with the the accessory, at the time only four were compatible.[5] IGN also pointed out the annoying "squealing noise" or "electronic chirp" that the device made when rumbling, and stated that "Good thing it's free, because at this point we wouldn't bother buying it as an extra" as they felt it was "broken".[6]
References
Edit
Ad blocker interference detected!
Wikia is a free-to-use site that makes money from advertising. We have a modified experience for viewers using ad blockers

Wikia is not accessible if you've made further modifications. Remove the custom ad blocker rule(s) and the page will load as expected.