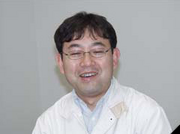 Nobuhiro Ozaki is a programmer at Nintendo. He was an assistant programmer for Metroid II: Return of Samus and was involved with the system and tool programming of Metroid Fusion. Ozaki was also involved with the programming of Metroid: Zero Mission, and was credited in the special thanks of Super Metroid. Ozaki was interviewed, along with Ryuichi Nakada, Takayasu Morisawa and Takaya Fujii for volume 71 of Nintendo Official Magazine in June 2004 regarding his role in the development of Zero Mission. Ozaki said that he played the original Metroid every day, but remarked that he was no good at Super Mario Bros., as he was "not very good at games with the tense feeling you get where you die if you miss once." When asked why the Metroid series has been supported for so long, Ozaki said that the story elements, clear time and item collection rate drew fans in to play and replay the games. Ozaki revealed that Nakada desired to include many new elements in the game, and persisted even when they were rejected. One of these ideas was including the original Metroid as an unlockable. Ozaki ended the interview by encouraging players to pick up Zero Mission, and referred to Zebesians as "lobsters", referring to their signature crab-like claws.
References
Edit
Ad blocker interference detected!
Wikia is a free-to-use site that makes money from advertising. We have a modified experience for viewers using ad blockers

Wikia is not accessible if you've made further modifications. Remove the custom ad blocker rule(s) and the page will load as expected.