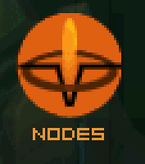 Nodes is a game mode in Metroid Prime Hunters. In this mode, Hunters stand on Nodes placed on the stage for ten seconds to capture them, gaining points for each Node that they bring under their control. Fault Line is the only multiplayer level that cannot be played in Nodes.
Official data
Edit
"Fight over the Nodes placed on the stage. When you stand on an uncontested node for ten seconds, you capture it. You get points for nodes under your control."
"Small beacons are placed around the stage - when you take control of one, you claim it until another hunter can claim it back. Protect as many beacons as you can for as long as you can to claim victory." [1]
Ad blocker interference detected!
Wikia is a free-to-use site that makes money from advertising. We have a modified experience for viewers using ad blockers

Wikia is not accessible if you've made further modifications. Remove the custom ad blocker rule(s) and the page will load as expected.