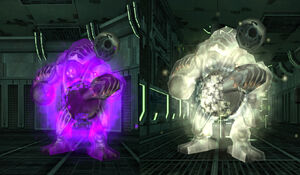 An opposite-polarity system is a shield projector used by Quad Command Modules and Ingsmashers, and their Darkling counterparts. Designed by the Luminoth, these beams project a shield of light or dark energy over either mechanism in combat. The Quad CM fires blasts of the respective energy at Samus while continuously strafing, while the Ingsmasher will hold out its arm and try to ram Samus. The system can be countered through the use of a beam of the opposite polarity, e.g. Dark Beam on a light shield.

Logbook entries
Edit
Ad blocker interference detected!
Wikia is a free-to-use site that makes money from advertising. We have a modified experience for viewers using ad blockers

Wikia is not accessible if you've made further modifications. Remove the custom ad blocker rule(s) and the page will load as expected.