"Looks like a pile of rags..."
---
This article or section is in need of one or more images, or the image(s) used is/are not of a satisfactory quality.
You can help Wikitroid by adding a preexisting image or by uploading a new one.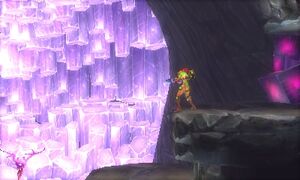 Area 4, previously known as Phase 5 and Phase 6, is a section of SR388.
Phase 5 is the fifth explored area in Metroid II: Return of Samus, and is one of the smaller ones as well, featuring no powerups and only one Gamma Metroid. While exploring Phase 5, Samus must navigate her way through Octroll territory.
Phase 6 is the sixth explored area in Metroid II: Return of Samus. It is a medium-sized area that splits into two tunnels where Samus can use Flitts to jump across pools of purple liquid, with one tunnel leading to an Alpha Metroid encounter and the other leading to another Gamma.
In the remake Metroid: Samus Returns, the two areas are combined and expanded, and now take place in a series of caverns filled with crystals, some of which can even be seen walking around in the background. The Spazer Beam, Space Jump and Super Missiles are all acquired here. After the first Gamma Metroid is killed and Samus drains the purple liquid via a Chozo Seal she will come across a second Seal requiring the destruction of three more Metroids, somewhat similar to Area 6.
Ascending an elevator shortly after, Samus comes across a damaged Chozo Statue, with its power-up missing. She is soon accosted by the Diggernaut robot she encountered earlier in Area 3, which chases her through a series of mining caverns until she manages to trick it into believing she is dead. It leaves behind the Space Jump. Eventually she finds another Chozo Statue containing the Super Missile. Soon after this, Samus faces her first Zeta Metroid.
Creatures
Edit
Return of SamusEdit
Samus ReturnsEdit
Metroids fought
Edit
Return of SamusEdit
Samus ReturnsEdit
Connecting areas
Edit
Power Suit Upgrades
Edit
Samus ReturnsEdit
Expansions
Edit