Phazon Mine Entry is a room in the Pirate Mines on the Pirate Homeworld. It appears in Metroid Prime 3: Corruption.
Description
Edit
The room is a corridor with a small chamber in between, blocked by two Phazite walls. Samus must deactivate them by destroying the locks with the Nova Beam to be able to reach a Missile Expansion. The alcove also contains a Space Pirate Data entry.
Connecting rooms
Edit
Inhabitants
Edit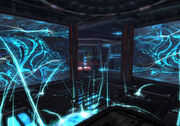 Curiously, if Samus deactivates one Phazite wall, the other cannot be deactivated.