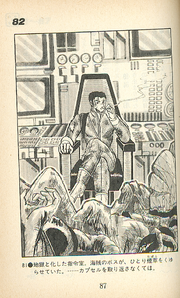 The Pirate Boss was the commander of the Space Pirates, and thus was responsible for taking a Metroid capsule. After capturing Samus Aran shortly after the latter destroyed Mother Brain, and forcing her to unmask herself, he then relegated himself to the command room. However, it was eventually destroyed, although the commander himself was unscathed, merely smoking when Samus arrived into the room. He then divulged his motives to her, with Samus then taking out a sword and dueling him. Depending on how the player does, the Pirate Boss may kill Samus by stabbing her in the abdomen. Ultimately, he fell before her, with the space pirate mothership being destroyed shortly afterward.
"The command room, now destroyed to hell. The Pirate Boss was alone, smoking a cigarette. ...I must retrieve the capsule!"
Ad blocker interference detected!
Wikia is a free-to-use site that makes money from advertising. We have a modified experience for viewers using ad blockers

Wikia is not accessible if you've made further modifications. Remove the custom ad blocker rule(s) and the page will load as expected.