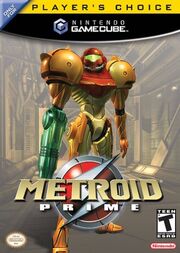 Player's Choice is a marketing label used by Nintendo to promote video games on Nintendo game consoles which have sold well; Player's Choice titles are sold at a lower price point than other games. Some glitches and bugs are also fixed in some games.
In the United States and Europe, Nintendo introduced the label in 1996 for both the Super Nintendo Entertainment System and the Game Boy, and later applied it to the Nintendo 64 and Game Boy Advance, to distinguish titles that have sold over one million copies. Originally it was named Nintendo Classics in Europe until 1999. The Player's Choice name was applied from Nintendo 64. The label is also applied to Nintendo GameCube games that sold more than 250,000 copies.
Metroid cameos
Edit
Nintendo GameCube
Edit
Game Boy Advance
Edit
Mario & Luigi: Superstar Saga
Ad blocker interference detected!
Wikia is a free-to-use site that makes money from advertising. We have a modified experience for viewers using ad blockers

Wikia is not accessible if you've made further modifications. Remove the custom ad blocker rule(s) and the page will load as expected.