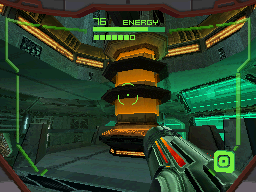 The Port Helm is an object in Metroid Prime Hunters, found in the Helm Room on the Celestial Archives. This object entry suggests that the telepathic thread promising an ultimate power in the Alimbic Cluster was sent out from the Helm Room, though potentially did not originate there.
Logbook entry
Edit
Port Helm
Metroid Prime Hunters
Logbook entry
"THE SECRET TO ULTIMATE POWER LIES IN THE ALIMBIC CLUSTER." Author and origin unknown.