Prime Series
Talk

6
3,440pages on
this wiki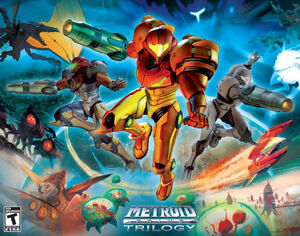 The Metroid Prime series refers to the three first-person adventure games in the Metroid series that were developed by Retro Studios and published by Nintendo, and the series' first person entry on the Nintendo DS developed by Nintendo Software Technology Corporation. The storylines of the games in the Prime series ultimately center on the highly-mutagenic substance Phazon. The games included in the Prime trilogy are:
In addition to the core trilogy, three other games bearing the Prime name have been released, Metroid Prime Pinball, Metroid Prime Hunters: First Hunt and Metroid Prime Hunters, although none are as integral to the main "Metroid Prime" plot. However, Hunters is offically part of the Prime series and takes place between the first two Prime games.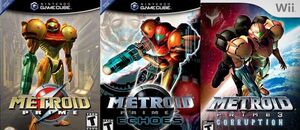 A demo for Metroid Prime 2: Echoes was also given out exclusively by Nintendo, under the title Metroid Prime 2: Echoes Bonus Disc. It included videos, a demo of the game with a remixed room layout, and an up-to-date timeline of the games in the series.
Based on the first two games, were a comic for Metroid Prime in Nintendo Power, as well as Metroid Prime: Episode of Aether, a Metroid Prime 2: Echoes manga.
The first two games in the Prime series were ported to the Wii and featured remapped controls for the Wii Remote and Nunchuk as part of the New Play Control! series. They are New Play Control! Metroid Prime and New Play Control! Metroid Prime 2: Echoes.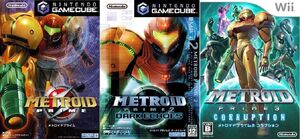 A disc of all three titles has been released in North America, Canada and Europe in 2009, the original two being enhanced with Wii controls and all of the features found in the New Play Control! releases. This title was long rumored to be in production by fans after Corruption was released. The compilation is called Metroid Prime Trilogy and includes new features. [1] [2]
Interestingly, each of the console games have at least one glitch that can corrupt the player's game and force them to start over.
Metroid Prime - In the Elite Research room in the Phazon Mines, after defeating the Phazon Elite, the Artifact of Warrior will appear. If the player leaves the room, it will disappear.
Metroid Prime 2: Echoes - In the Main Research room in the Sanctuary Fortress, should Samus, for any reason, leave the room before destroying all of the sonic emitters, the door will be locked and she will not be able to continue unless she resets or performs a Kip Dash.
Metroid Prime 3: Corruption - In the Mine Lift room on the Pirate Homeworld, if Samus leaves the room before using both Spinners, they will be inactive and the Mine Lift cannot be dropped. If this happens and she saves, the game file will become corrupt and she cannot continue.