Proving Grounds Lift is a room in Pirate Research on the Pirate Homeworld in Metroid Prime 3: Corruption. It is where Samus Aran is pointed to when she receives a transmission from Gandrayda impersonating a Federation Marine. When Samus first enters the room she will see Gandrayda being attacked by two Pirate Militia. When Samus defeats them, the Marine will instruct Samus on how to activate the Elevator in this room and also tell her about the Hazard Shield. To activate the elevator, a panel with two security levers must be activated at the same time.
Connecting rooms
Edit
Inhabitants
Edit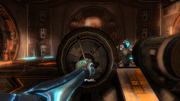 Console

"Lift control console requires the activation of two systems simultaneously."
"Unknown alloys detected within this storage unit's plating make it invulnerable to your weaponry."

Mechanism

"Target is part of an energy-production system. Unit has been locked in auto-run cycle."

Mechanism (2)

"Target appears to be in power-conservation mode. Unit is currently offline."

Mechanism (3)

"Energy reactor operations are on automatic. Unit provides power to all critical facility systems."

Elevator

"Lift system is offline. A nearby control console will restore operations."

Elevator (2)

"Lift system is online and ready for use. All operations are functioning normally."
Ad blocker interference detected!
Wikia is a free-to-use site that makes money from advertising. We have a modified experience for viewers using ad blockers

Wikia is not accessible if you've made further modifications. Remove the custom ad blocker rule(s) and the page will load as expected.