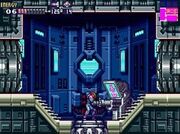 A Recharge Station (or Recharge Room) is a device that restores all of Samus's energy and recharges all Missile Ammo and Power Bomb Ammo. It replaces Missile Stations and Energy Charges (and for that matter, Missile Batteries and Big Energy Balls) in Metroid Fusion. Its appearance resembles that of the Map Stations in Metroid: Zero Mission except they extend from the ground instead of the ceiling. They also attach to Samus' Arm Cannon. These are built into Save Stations and Missile Stations in the Prime Series, although, like in Zero Mission, they extend from the ceiling instead of the ground. Save Stations in Chozodia and the Space Pirate Mother Ship restore Samus's energy and ammunition, while they do nothing more than save the game in other areas of Zebes during Zero Mission. This is due to the stealth element initially present in those areas.

Ad blocker interference detected!
Wikia is a free-to-use site that makes money from advertising. We have a modified experience for viewers using ad blockers

Wikia is not accessible if you've made further modifications. Remove the custom ad blocker rule(s) and the page will load as expected.