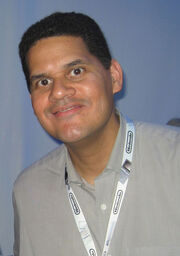 Reginald "Reggie" Fils-Aime is the president and chief-operating officer of Nintendo of America. Prior to his promotion to said positions, Fils-Aime was executive vice president of sales and marketing. He gained celebrity status among gamers following his appearance at Nintendo's E3 press conference in May 2004, and has appeared at conferences for E3 since, having unveiled games such as Metroid: Other M.
Fils-Aime was born to Haitian immigrants, that moved to the United States due to the conflicting political views of Fils-Aime's grandparents. Graduating from Brentwood High School, he was accepted to Cornell University in 1979. While at Cornell, he had been a member of Phi Sigma Kappa. He earned a Bachelor of Science in Applied Economics in 1983.
External links
Edit
Ad blocker interference detected!
Wikia is a free-to-use site that makes money from advertising. We have a modified experience for viewers using ad blockers

Wikia is not accessible if you've made further modifications. Remove the custom ad blocker rule(s) and the page will load as expected.