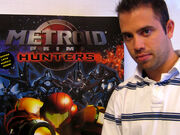 Richard Vorodi, alternatively known as NST Rich online, is an American game designer and occasional voice and motion capture actor, formerly at Nintendo Software Technology. He designed the story, environments and single player mode in Metroid Prime Hunters and its demo, Metroid Prime Hunters: First Hunt. He noted that "the hardware kinda dictated" their focus onto the game's multiplayer mode. Vorodi worked at NST from 2001-2011 on Hunters and multiple other games. He later worked at Vigil Games and Crytek as a senior game designer, and is currently senior designer at Gunfire Games.
He said that "if a strong enough request came to do something [a game] starring [any Bounty Hunter in Hunters that grew popular], we would have to do it." Sylux has made appearances in Metroid Prime 3: Corruption and Metroid Prime: Federation Force, and is rumored to play a major role in Metroid Prime 4.
Other credits
Edit
IGN interview comments
My name is Richard Vorodi, and I'm a game designer for Nintendo Software Technology, and I worked on Metroid Prime Hunters.

We've been working on Metroid Prime Hunters for a little over two years now, and we're all exhausted and we're all very excited that it's over. But the extra time that we spent in development really helped us get our wishlist of ideas inside.

I'm super proud of everything in the game, like I'm stoked about all the stuff we were able to cram into this DS game. But I think some of the coolest things about it are the fact that, one, it's using Nintendo's Wi-Fi Connection, so you can connect online for free and play anybody. The other thing is that we have a whole new set of Bounty Hunters. We've introduced these guys into Samus's world, so that's really going to change the way people look at Metroid, and lastly, single player play time is a little smaller than Prime, but the game as a whole is four times the size of Metroid Prime in terms of content and features. It's crazy, it's loaded.

Okay so, for all the fans that, you know, have grown up with Samus and they followed her adventures, you know, they might, maybe feel a little betrayed by the fact that now we're turning their beloved franchise into this multiplayer frag fest, but really I don't think there's any calls for alarm. You know, with Hunters we are staying true to what Metroid is, in first-person perspective. We've definitely got a ton of puzzles, there's a ton of shooting, the Morph Ball is definitely heavily used.

Samus is definitely out to explore the environment, but what we're doing, and what's different, what will make Hunters unique is the hunter-hunted mechanics that we have. Basically, Samus is not alone on this mission. For the first time there's other bounty hunters in there that are wreaking havoc, and they're chasing her around, and basically what everybody's looking for are these crystals called Octoliths, and the Octoliths promise the ultimate weapon to whoever can collect all of them. So basically, the Federation kind of sends Samus out to the rim of their control, so it's this uncharted area. Samus is basically like a rogue agent; she's out doing some undercover super-spy stuff for the Federation. We've got hunters chasing her down, we've got a lot of action and puzzles, and huge bosses. I mean, the game's fantastic, and like I said, it's just a little shorter than Prime, so anybody expecting just like a quick dust-off mission in fifteen minutes, they got another thing coming.

Voice-over IP was one of those things that we really wanted to get in the game the minute we decided to go online. It's rare that a game can come out that actually hits all the things that you wanted to do. I think we really pushed this game more towards hardcore fans. If everybody can enjoy it, great, but if not, I mean that's pretty much what it is. This game is fast, it's brutal, it's hardcore. One of the things that hardcore players tend to appreciate when they're playing online games is the ability to communicate. Whether that be the voice over IP or just, you know, basic chatting, we were definitely cognisant of the fact that we wanted those in the game.

The differences between just playing your friends that are just hanging out with you in Metroid and playing people you've never met or your friends from another state away online, there's no difference. If you guys recall with Mario Kart, there were some features that had to get dropped when you played it online, versus when you played it offline, and Metroid is one of those great circumstances where we were able to just maximize the power of the DS and we have everything in there. How you play it by yourself or with friends is exactly how you play it online connected through the Wi-Fi.

One of the things that you'll notice about how we've set up our multiplayer portion of the game is we have the inclusion of something called a Hunters License. This is really cool because, again gearing towards hardcore gamers, this thing tracks a crazy amount of stats. Things that most people wouldn't even care about, but some of us do, like how long you've walked in the game and how many shots you fired total and how many times you killed somebody with the Morph Ball or the Triskelion, things like that. We have an incredible stat tracker.

Metroid Prime Hunters drops March 20th. You don't want to miss the boat guys, this is crazy, go get it.
External links
Edit