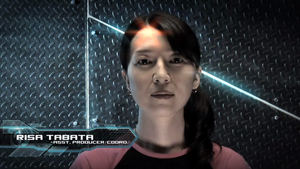 Risa Tabata is an employee of Nintendo who served as the assistant producer of the Prime Series under Kensuke Tanabe. Her first task upon joining Nintendo SPD Group No. 3 in 2001 was as the assistant producer Metroid Prime. Following the conclusion of the Prime series, Tabata also produced the two Retro Studios-made Donkey Kong Country games, in a larger supervisory role. Aside from this, she has also provided voice acting for WarioWare: Touched!, helped to produce Captain Rainbow, and was credited under special thanks in Mario Kart 7 and 9.
Tabata was interviewed as part of the Developer's Voice trailer for Metroid Prime Trilogy. In this interview, she mentioned the intuitiveness of the Wii Remote controls for the games, and said "It's up to the fans," when asked if Dark Samus or Phazon could return in future games.
External links
Edit
Ad blocker interference detected!
Wikia is a free-to-use site that makes money from advertising. We have a modified experience for viewers using ad blockers

Wikia is not accessible if you've made further modifications. Remove the custom ad blocker rule(s) and the page will load as expected.