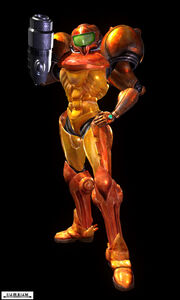 For the character, see Chief Rodney Aran.
Rodney Brunet skinned the original Varia Suit model for Metroid Prime which was created by Mike Sneath.
"Rodney was shifted from the project directly before I got onto it," recounted Gene Kohler. "The original Samus looked fantastic in my opinion and the fans seemed impressed and excited by what they saw. When I came on board I was first asked to re skin the original model. Later I was ordered to create her from scratch (model and skin)." [1]
Ad blocker interference detected!
Wikia is a free-to-use site that makes money from advertising. We have a modified experience for viewers using ad blockers

Wikia is not accessible if you've made further modifications. Remove the custom ad blocker rule(s) and the page will load as expected.