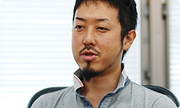 Ryo Koike is a Japanese composer who is best known for his work with Team Ninja on the Dead or Alive series. Koike was the audio director of Metroid: Other M, also developed by Team Ninja.
In an Iwata Asks interview regarding the game, Koike spoke about his role on the project, and revealed that he had been playing the Metroid games since the first on the Famicom Disk System in his childhood. He was delighted to have the chance to contribute to the development of the next game in the series. Koike composed the background music of Metroid: Other M, creating three music tracks for Yoshio Sakamoto to consider. One of the tracks was composed with a similar atmosphere to that found in previous games, but it was not approved.
Koike revealed how the "piece of piano music", the melancholic piano melody that plays at the end of Other M, was composed. It came to life when Sakamoto expressed one afternoon his desire to create a piano song for the game, the same day. Koike had a member of his team who could play the piano create songs and sent them to Sakamoto, whose criticism continued until the piece became a simpler melody that brought him to tears. Sakamoto called Koike that night and said "I heard a really great piece of music today. Thank you."
External links
Edit