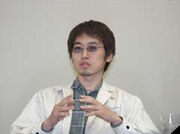 Ryuichi Nakada (born in Kanzawa, Japan in 1972) is a Japanese designer who has been employed at Nintendo since 1994, the year Super Metroid was released. He did not work on that game, however. Nakada graduated from the Kanazawa College of Art. His first job at Nintendo was as a graphic artist for the R&D1. In subsequent years, he played a role in the development of several Metroid games: course design for Metroid Fusion and Metroid: Zero Mission, special thanks in Metroid: Other M and was a supervisor for Metroid Prime: Federation Force. He detailed his experiences developing Zero Mission in the June 2004 issue of Nintendo Dream.[1]
When the development team was mulling what to create next after Metroid Fusion, they decided to make another Metroid game for Game Boy Advance, which turned into a remake of the original game with an additional chapter after the defeat of Mother Brain. They sought to make Samus quicker and more agile than she was in Fusion, and make the environments familiar enough so that anyone who played the original Metroid would recall them. Regarding the map, more freedom was to be granted to the player than with Fusion. While there was a hint system that would mark the next objective, there was greater freedom for players to explore.
Nakada, when asked why Metroid had been supported as a series for so long, said that there was always something new to try with each game. In this case, it was the sequence where Samus is forced to stealth her way through Space Pirate territory with only her Zero Suit. Nakada had planned to include many elements in the game, persisting even when many of those ideas were rejected repeatedly. Originally, the game had a chibi art style akin to the original game, but this changed when Nintendo of America noted that American players would prefer a more realistic style.
Outside of video games, Nakada is a huge fan of baseball, with his favorite sports team being the Hanshin Tigers.[2]
References
Edit