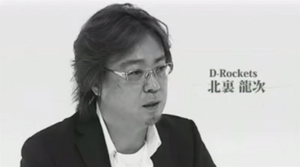 Ryuji Kitaura is a Japanese director. Kitaura was the cinematic director of Metroid: Other M, and produced the game's pre-rendered cutscenes with his company D-Rockets as part of Project M.[1] In an Iwata Asks interview, he stated that he usually works on TV commercials, but he sometimes creates cutscenes for Tecmo games.
Kitaura said he considered the workload involved with the development of Other M "overwhelming". Nintendo desired the game to have cinematics and gameplay that were both seamless and of a very high quality.[2] Kitaura also revealed that he wanted to include more cutscenes where Samus was without her Power Suit in order to better illustrate her human side. However, Yoshio Sakamoto convinced him against it as the Power Suit was intended as a shield for not only enemy attacks, but her feelings.[2] He stated he drew more than 300 storyboards in total, with a count of over 2,000 images. He was also accounting for camera work and action with the storyboards, and took at least six months to finish them.
His profile on the D-Rockets website in Japanese can be found here: [1] and his English profile here: [2] Curiously, the English version of his profile does not mention Metroid: Other M.
References
Edit