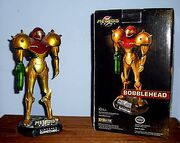 The Samus Aran Bobblehead is just one of much merchandise released to promote Metroid Prime. It is a figure of Samus Aran wearing her Varia Suit from Prime, standing on a post which has the logos of Prime and the Nintendo GameCube (the platform the game is used on) on it. The box depicts two images of Samus as well.
Ad blocker interference detected!
Wikia is a free-to-use site that makes money from advertising. We have a modified experience for viewers using ad blockers

Wikia is not accessible if you've made further modifications. Remove the custom ad blocker rule(s) and the page will load as expected.