Samus Archives Sound Selection, alternatively known as the Samus Archives Music CD or simply Samus Archives is a CD soundtrack that was released alongside the Special Edition of Metroid: Samus Returns. It contains 25 music tracks including classic Metroid themes, and new tracks from Samus Returns. It is the first Metroid soundtrack to be released since the Metroid Prime & Fusion Original Soundtracks in 2003, and the first Metroid soundtrack to see an English release.
Tracklist
Edit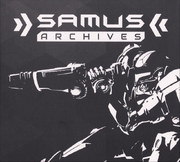 The track listing was revealed in Japanese on August 8, 2017[1] [2] It features songs from most games in the series released to that point, except for Metroid: Zero Mission, Metroid Prime Hunters, Metroid Prime Pinball and Metroid Prime: Federation Force.
References
Edit
Ad blocker interference detected!
Wikia is a free-to-use site that makes money from advertising. We have a modified experience for viewers using ad blockers

Wikia is not accessible if you've made further modifications. Remove the custom ad blocker rule(s) and the page will load as expected.