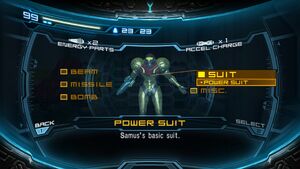 The Samus Screen, also known as the Status Screen, Inventory Screen or Equipment Screen is a screen that shows Samus Aran's status and abilities in the 2-D Metroid series. It was first featured in Super Metroid. The Inventory of the Prime Series is similar.
Usually, the Samus Screen depicts a holographic moving or still image of Samus, with several categories for her power-ups that point to various regions on her Power Suit, such as the Visors, Suits, Arm Cannon, Boots or miscellaneous items.
Official data
Edit
Super MetroidEdit
Manual information
Edit
"This display allows you to view the items that Samus is carrying and to arm or disarm those items.
Supply: Samus can resupply her energy with located Reserve Tanks.

Auto: Samus's energy is automatically refilled to 99 units when her energy falls down to "0" during game play.
Manual: Samus's energy is refilled by 99 units if the cursor is moved to RESERVE TANK and press the A button.

Beam: This shows which beams Samus is using. You can combine some beams for a powerful effect, but SPAZER and PLASMA beams cannot be used simultaneously.
Suit: This shows which suits Samus is wearing.
Misc.: Use this to check Samus's special powers.
Boots: This shows the boots Samus is wearing."
Metroid FusionEdit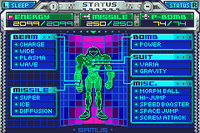 Manual information
Edit
"Press the R Button on the map screen to view the Status screen. Usable abilities can be confirmed on this screen."
Metroid: Zero MissionEdit
Manual information
Edit
"On the Map screen press the R Button to view the Status screen and check Samus's status. View the abilities Samus can use on this screen."
Inventory data
Edit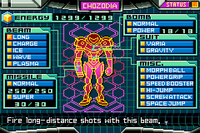 =Manual information
Edit
"Check available beam types, suit functions, and more. Touch an icon to see a description of a piece of equipment and its effects.
Press [L] to switch back to the map menu screen."
Inventory data
Edit
"Multiple mutations will cause a Metroid to grow into an even larger and more powerful adversary."
---
Please help improve this article or section by expanding it.
Much more information can be added to this article.
3-D appearances
Edit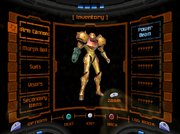 Metroid Prime features Samus standing in the middle of the pause screen, with the left and right sides of the screen showing item categories and items themselves. In the Logbook section, she is replaced by the Chozo Artifacts, which show gold pieces to indicate collected artifacts, while blue pieces represent ones that have yet to be acquired. The Options menu replaces her with a spinning Nintendo GameCube or Wii depending on versions. Metroid Prime Hunters contained a 3-D rendered version of the Samus Screen, pictured above, although it was only available in her Gunship. Metroid Prime 3: Corruption 's inventory was also similar. The Samus Screen returns in Metroid: Other M, with Samus assuming different poses for different items.
Ad blocker interference detected!
Wikia is a free-to-use site that makes money from advertising. We have a modified experience for viewers using ad blockers

Wikia is not accessible if you've made further modifications. Remove the custom ad blocker rule(s) and the page will load as expected.