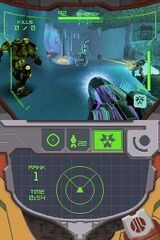 Sanctorus is a multiplayer stage in Metroid Prime Hunters. Featuring two floors, the arena contains Energy Capsules, Double Damage, Affinity Weapons, Missile Ammo and the Volt Driver on the second floor. The surfaces are slippery and snow pillars can provide cover. Sanctorus is not available by default, and must be unlocked by playing 2 local games.
Ad blocker interference detected!
Wikia is a free-to-use site that makes money from advertising. We have a modified experience for viewers using ad blockers

Wikia is not accessible if you've made further modifications. Remove the custom ad blocker rule(s) and the page will load as expected.