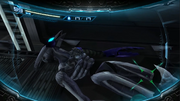 "What is this thing?"
---
This disambiguation page lists articles associated with the same title. If a link led you here, you may wish to change that link to point directly to the intended article.
Sanctum is a sacred or holy place or an inviolably private place or retreat. [1] It is also the name of two different rooms (in Metroid Prime 2: Echoes and Metroid Prime 3: Corruption).
Samus Aran's victory over the Emperor Ing in one and both Dark Samus and Aurora Unit 313 in the other resulted in the destruction of Dark Aether and Phaaze, respectively.
Ad blocker interference detected!
Wikia is a free-to-use site that makes money from advertising. We have a modified experience for viewers using ad blockers

Wikia is not accessible if you've made further modifications. Remove the custom ad blocker rule(s) and the page will load as expected.